I have been a nurse my whole life, taking care of and doing things for others. I am my grandson Michael's legal guardian, and have been since he was 8 months old. He has special needs and just turned 21 in July. We both like photography, especially taking nature landscapes. We have been all around the state, from Mt. Rainier to Mt. Baker to take photos. Locally, we enjoy Saint Edward State Park in Kenmore, but there is a big hill you have to climb. It would take me an hour to make it up that big hill, and on one visit, we almost called an ambulance because I was so out of breath.
I was an insulin-dependent diabetic for 18 years with congestive heart failure for the last four years. I had high blood pressure, high cholesterol, sleep apnea, knee problems and was morbidly obese for more than 20 years. With all these health conditions, I was slowly dying and needed to change my life and get healthy for my grandson. My cardiologist suggested weight loss surgery.
I researched where to have the surgery and found Overlake. I had heard so many great things about the program. I underwent the six months of preparation prior to surgery. Then, I had surgery last October (2018). It was my 70th birthday present to myself, and, really, the first thing I've ever done for myself.
The surgery went smoothly, and I was off insulin the day after surgery. Less than a year later, I have lost 103 pounds. I went from a 4X blouse to a size medium. My pant size went from 16 plus size to size 2—I have NEVER worn a size 2, not even in high school. But the most important thing is that I have never felt better in my life. I no longer have congestive heart failure. I can do stairs and hike. I can do anything I want—even small things like tying my shoes and crossing my legs. It has been such an amazing transformation and journey for me.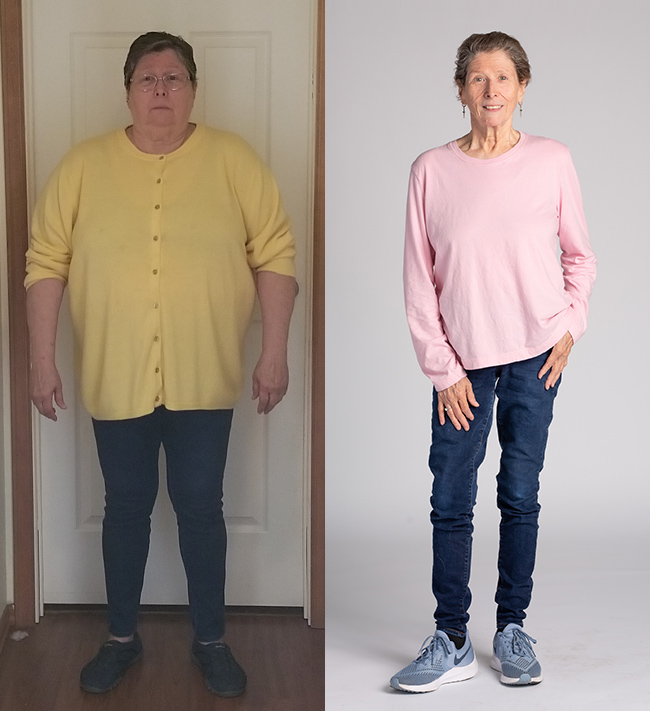 People think it's the easy way out. It's not the easy way out. It requires not just a change in mindset, but your whole outlook on life and food changes. It's partly about no longer substituting food for comfort or to hide or take away painful things from your childhood. It's like being given a second chance at life and being able to do it right this time. It takes so much hard work and effort. You work hard every single day to manage what goes on after surgery. People think if you tried a little harder on this diet or that one, you could lose weight. When you have other medical issues like diabetes, especially, you can't easily lose weight. I've tried every diet on the planet. This is the only thing that worked.
I owe it all to Dr. Nguyen and his staff. They've been so supportive, kind and caring; I've never experienced so much heart and compassion before in a doctor's office. The support group is everything, and they are like family to me. I'm so glad I chose Overlake. I don't think I'd have these amazing results otherwise. It has changed my whole life.
I saw my endocrinologist for the last time last month. When she walked in the door she thought she was in the wrong room. She cried—she was so amazed and happy for me.
Now when my grandson and I go take pictures at Saint Edward's I can make it up the hill no problem, without even thinking about it. There really is nothing I can't do now, and I am so blessed to have this chance to live my best life.